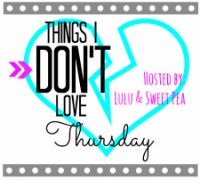 I'm linking up for the first time ever with
Lulu & Sweet Pea
for Things I Don't Love Thursdays.
There are TONS of stuff that irk me, but there is one thing in particular that I've been wanting to get off my chest for a while now.
Autism.
It sucks.
I love my son, and he is who he is... I wouldn't change that, really. His quirks are what make him ''him.'' But he can be... draining.
For those that don't know our story, Memphis was diagnosed as high functioning autistic in 2012 at
the age of 6. The diagnosis (along with ADHD & Anxiety issues) was a relief. We *knew* what we were dealing with and that was such a weight off my shoulders. It never changed how much we loved him, obviously. If anything, him being *different* just made me love him even more.
Always one to look on the bright side of things, I figured we were given this special child because we were strong enough to deal with it.
But I haven't been feeling strong lately.
He is attending a day camp 3 days a week and we are struggling. It is so important for him to participate in social activities, but the people there, as much as they are willing to learn aren't really equipped or knowledgeable on how to deal with autistic children... Memphis has certainly thrown them for a loop.
My days are spent worrying about how he's doing, and if we've made the right choice in sending him there. I work at an insurance compnay during the day and find myself drifting off with thoughts of ''if he can't even handle day camp, how are we going to get through the second grade!?''
Our nights are spent amusing him, disciplining him and trying to get him to bed at a decent hour.
We have our good days and bad days, and I admit... those bad days are hard.
I've cried, alone in my room, more than once.
Any other autism mamas out there? How do you get through the especially rough patches?
I mean, really.... autism doesn't define who Memphis is. It just kinda sucks sometimes.