I blog about my life and how it's changed since motherhood. I also blog about my motherhood fumbles and recoveries, so that's all fun too. I'm sure you have seen me around this blog before.
What I love about Lena's blog, is that I get inspired by her photographs. I'm super jelly because I am not the best photographer. I just have a little point and click, and it's usually blurry or has bad lighting. My photos are embarrassing. Unless I'm using my secret weapon... Instagram.
Even the most novice and unskilled eye, can come up with some rad photos via Instagram. Case in point. A wedding I recently had the honor of attending. I was also wearing a "wedding coordinator" halo that day, so I got some great shots of the bride and groom, and of the bride and her dad. I was lucky enough to snag these without making a big to do. Trust me when I say, that these would look pitiful if I had taken them with my point and click!! These pictures look like I know what I'm doing. It's all thanks to Instagram!
The bride and her dad as they are about to walk down the aisle.
The happy couple moments after becoming man and wife.
The bride and groom sharing their first dance.
The bride and her father sharing a tearful dance.
If you don't already know, Instagram is an addiction of mine.
Just like Lena and her bloggy!
And as a thank you for having me over today,
I'm going to give away a $15 gift card to Target.

Ah! These photos are breathtaking, Megan!!
Thank you for sharing the awesomeness that is Instagram!
Megan's giveaway will end Sunday, July 22nd at midnight!
Good luck!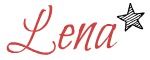 a Rafflecopter giveaway