Today, I'm participating in the Grow.Swap.Share. I'm posting over at
What's Cooking, Love?
about my famous meatloaf!! Sorry, it was supposed to be an original post... but hers is a kick ass cooking blog, and there's not a whole lot I do well, so you're getting the meatloaf recipe again! ;)
She's sharing a great recipe for chicken crescent bundles.
If you take a look around her blog, you'll find that all her recipes are "amazing" but totally doable "in real life!" I love that!!
Take it away, girl!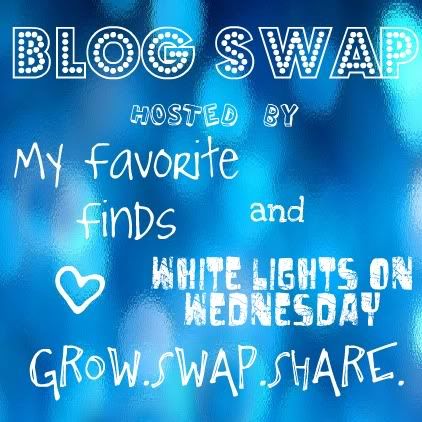 Lena has a great blog. She has posts about her cute kids and great tutorials. Thank you so much to Lena for having me on her blog today. I appreciate this opportunity!
Make sure that you check out Lena's post at my blog.
I am a wife to my wonderful husband and a mother to my 11 month old son. I like to blog about cooking and love food! My
blog is about cooking easy, good food, using shortcuts and timesavers. I also host a weekly link party, Showcase Your Talent Thursday. I hope that you stop by and visit.
When I was talking to Lena she told me that she is not the best of cooks. This recipe is really easy, anyone can make it. Having a kid makes cooking dinners even more difficult. I love having easy, tasty recipes for weeknights, so that I can spend more time with my son.

These bundles are made using refrigerated crescent dough. They tasted really good and were easy to make. These are perfect for a busy night when you need to get something on the table. This is a great go to meal. We definitely plan on making this again.


Chicken Crescent Bundles
(Recipe adapted from Best of the Pillsbury Bake-Off Cookbook)

1 package (3 ounces) cream cheese, softened
1 tablespoon butter, softened
2 cups precooked chicken, cubed
2 tablespoons soy milk (can substitute regular milk)
1 can (8 ounces) refrigerated crescent dinner rolls
1 tablespoon butter, melted
3/4 cup seasoned bread crumbs
1. Preheat the oven to 350 degrees.
2. In a medium bowl, beat the cream cheese and 1 tablespoon softened butter until smooth. Stir in the chicken, chives, salt, pepper, garlic powder, and soy milk.
3. Separate the dough into 4 rectangles. Firmly press perforations to seal. Spoon 1/2 cup chicken mixture onto the center of each rectangle. Pull the 4 corners of the dough to the center of the chicken mixture and twist firmly. Pinch the edges to seal. Place on an ungreased cookie sheet.
4. Brush the tops of the bundles with 1 tablespoon melted butter. Sprinkle with the bread crumbs.
5. Bake for 25 to 30 minutes or until golden brown.
Thank you so much to Lena for switching blogs with me!
Thanks!
*********************
I love that she paid attention when I told her I couldn't cook! I think I might actually try these someday for my family... I'm not a big cheese fan, but I like cooking with it when it's something I know the fam will like!!
Thanks again, Alyssa!