Next week is going to be SO.MUCH.FUN here on the blog!
It's going to be about something I think we ALL love...
PHOTOGRAPHY!
I have lined up some great guest bloggers of all skill levels, experience and styles to talk a little about what they love about photography and to provide us with some tips & tricks to improve our photography as well!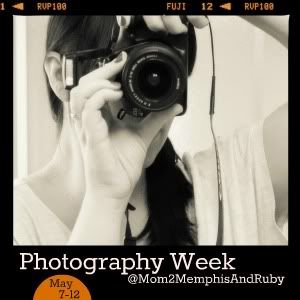 Today they're giving you a sneak peek into their post!
I'm really excited about these!
I love hearing about other people's passions, and when they happen to be the same as mine, it's even better! I think photography is such an amazing outlet, and I love that everyone eventually settles into their very own style!!
Here's the lineup for next week! Squeeee!
Monday, May 7th
"As an actor, former model, and picturetaker I've got just a few tips gleamed from years in front and behind the camera to get the most out of your shoot."

Tuesday, May 8th
Tuesday 10: Favorite Instagram Photos
with my fab co-host Kimberly of
A Night Owl Blog
Wednesday, May 9th
"Don't let the intimidation of not knowing the ins and outs of something detour you from doing something you want to do. Use every moment you can as a learning experience."
Thursday, May 10th
"Can't wait to share my love for film photography with all you fabulous Mom2MemphisAndRuby fans!"
Friday, May 11th
"Since I have done it all, I have found my passion lies in boudoir. I love that I am able to help women feel like supermodels. I have had clients of all body shapes and sizes come to me wanting boudoir photos...it is all about being confident in your skin and knowing that there is no judgement from the photographer so you can be completely comfortable to get your best pictures."
Saturday, May 12th
"Our photography topic will be common posing mistakes. Why posing? Because its what Rachel and I struggle with the most. The more you practice, the more it becomes natural but those first few times on a photo shoot, we were scarred to death."
It's going to be great, right?
I've also lined up a sweet little giveaway of a beautiful photography print...
so come back later to check that out!!