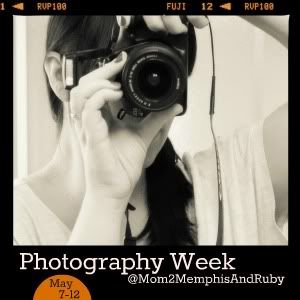 Hi I'm Amanda, I am the girl behind Lillys & Lollipops. When Lena asked me to be apart of her little photography series on her blog, I was so excited, then I was nervous...
I got nervous because I am not a professional photographer, I have written in posts before how I refer to myself as a fauxtographer. What kind of photography related mumbo jumbo am I going to write about? But that's just it, I am NOT a pro. yet I am NOT giving up. I am not going to let me inexperience pull me back from doing something that I love doing. So this is my story from the beginning of my journey, and what I have learned so far...
My husband and I bought our first DLSR camera for our honeymoon in Hawaii, we wanted nice pictures. We had no idea what we were doing, and actually the Hubs can take better scenery pictures then I can. It was a Sony a350(which I have since given the boot. I am a Canon girl) After the Hawaii trip the camera was put away in the closet never to see the light of day again. Until my daughter came along...
I have a good friend who takes AMAZING pictures, why isn't she doing it for a living? I have no clue. Anyways I like to tell her she is my inspiration in all this. I started because I saw her pictures, and how great they were, she inspired me because she was self taught. All this time I never really thought you could just teach yourself.I had never really thought about anything photography related at all. My daughter was a newborn, and I was on maternity leave a.k.a prisoner in my own home. With my husband back I work I was bored, so I started playing around with my camera. Taking pictures of my daughter. I think for every 30 pictures I had one picture that I thought was great. I was kind of impressing myself. I felt proud when I would photograph something and it turned out pretty. I started posting them on facebook so my friends and family could give me their obligated comment of "wow, your so amazing, great job!" But even though they have to say that because by the laws of being my friends and family they are bound to always thinking I am talented, amazing, smart and funny... It still made me feel confident about my ability, and made me want to keep practicing and learning.
I think this was one the first pictures I was really proud of
I had a few preggy friends that I begged to let me take maternity pictures for. I just wanted to try it out. I ended up with only one person who was willing to take time out in her day to watch me fiddle around with my camera, and try to think of cute poses... but in the end she was so happy with them, she put them on her facebook, and I'm not going to lie, I totally stalked those pictures wanting to read every comment that was posted about them. It made me even more confident. From that shoot I learned more about posing. Do some research, look at pictures online and see what style you lean more towards, and have fun during the shoots!

Now in my time of learning, and trying to do any kind of little photo shoot I can to get some practice, I also photographed a wedding for a friend. Before you go thinking how great I am, let me tell you it was a VERY small and low key beach wedding. I was proud of the pictures, but I also knew it wasn't the best I could have done.... it's all about the lighting, and when your dealing with a un-organized wedding, and happy lovey dovey newly weds, time and sunlight can get away from you, like I said I am not a pro. So from this I learned my niche... maybe shooting weddings wasn't my thing, I think I really preferred photographing maternity, babies, and kids.
At the time I didn't know many people with babies, and since I'm pretty sure random people aren't going to hand over their newborn to me to take pictures of,I have to take what I can get. I was more than willing to take some engagement pictures for my brother in law and his soon to be wife. It was a fun day, and I am so happy with how they turned out. One thing I learned during this shoot... more about lighting, having the sun directly over you will create shadows on the face. So if your shooting outside you need to do it at a time when the sun isn't directly above you ( early morning, or evening)
I love this picture, but you can see how the sun is casting shawdows on their faces.
Ok so I like taking pictures of expecting mommies and newborns... well guess what? Kids grow up, and you are still going to want pictures of them. Taking pictures of toddlers is a whole different ball game. With newborns you are trying to sooth and comfort them to get a good picture. With toddlers and kids you are chasing after them getting a bunch of blurry pictures of their backs because they won't stay still. This is when I learned to let a kid be a kid. When you capture them in their moments of having fun, you will get the best pictures. Let them have breaks, and stop forcing them to sit and say "cheese." Get creative with your surroundings, and using props.

We are all capable of great things. With a little time and hard work anybody can do whatever it is they want to do. " Nothing worth having was ever achieved without effort" -Theodore Roosevelt. Don't let the intimidation of not knowing the ins and outs of something detour you from doing something you want to do. Use every moment you can as a learning experience.