I've been blogging for awhile now, and I love it.
Seriously, people... my day doesn't seem entirely complete until I hit that "publish" button or check in to see what my fave ladies are up to.
It's a nice little part of my day that I really enjoy!
I do believe there is a certain way you should behave as a blogger.
"Integrity" is the first word that comes to mind.
These are the rules I like to follow in order to stay true to myself and respectful of others.
If you don't have anything nice to say, don't say anything at all.
I don't believe in bashing other people's views, and there is a BIG difference between being constructive & opinionated and being mean. I have been extremely lucky so far… I don't think anyone has had anything hurtful to say to me. Everyone has been nice & unbelievably supportive… but I have witnessed it on other blogs and I don't like it. Stand up for what you believe in, sure! But don't go out of your way to belittle someone else's opinion. IF you do have a statement to make, don't do it anonymously. I believe you should be proud of your opinion & be able to back it up. If you do take offense or have an issue with the author and/or a specific post, how about a personal email to discuss matters further? I have to admit, I have seen some people resolve their differences and get their points across very publicly in tactful ways and I've seen it done the wrong way too. Only once in the past year have I "unfollowed" someone because I didn't like how a matter was dealt with on their blog. So, let's keep it civilized & support each other!
Don't follow just to gain giveaway entries.
This is a tricky one. I know we all love hosting giveaways and entering them… and numbers aren't why anyone of us are doing this… BUT, it is a little disheartening to see your numbers skyrocket and then go back down again after a giveaway is over. Many bloggers are making a living via their blog/shop and are working hard to promote their brand. I totally understand this! And that is why I will only "follow" a blog as a giveaway entry if I am interested in getting to know that blogger better or I'm genuinely interested in the product a shop is offering.
Be yourself, don't be afraid to re-evaluate & give credit where it's due.
Blogging should come naturally. There are so many wonderful bloggers out there, it's easy to be swayed into thinking you should be doing what THEY are doing to be considered a "blogging success." I routinely put blogging into perspective. What is important to me, what I want my blog to be about, are my readers getting to know the real me, etc. Of course, there are going to be millions of similar BUT different blog hops & linkies (kudos to those that come up with truly unique ideas!! It's hard to do!!)… and that's totally okay. Just put your own spin on it, and always (always!) give credit where credit is due!!
When it comes to how much blogging I like to do... well, personally, I like to post every day because I like having new content for my readers to enjoy on a daily basis… but I don't necessarily WANT or HAVE THE TIME to write a post every single day. This is why I line up giveaways & guest posts at the beginning of the month… I can blog when I want about what I want… but I also know I have some exceptional bloggers with wonderful posts that are there when I need them! I have discovered many blogs/ new friends when they've guest posted... it's a beautiful thing! And that brings me to my next point:
Sponsors. Treat them the way you would like to be treated.
Be up front about what sponsoring your blog is all about. For some, all you get is a spot on the sidebar, others offer guest spots and various other opportunities. As long as everyone knows what they're signing up for, you'll all be happy! Take a chance on the underdog, the newbie and smaller blogs. There are some wonderful blogs & shops out there just waiting to be discovered! I understand, as previously mentioned, that some of us are making a living from blogging (directly or indirectly) and I don't think you should be throwing yourself out there for nothing… but offering a spot or two for FREE is a great way for some blogs to gain exposure, that might not have the means to purchase ad space on the larger blogs! Give a little of yourself, and it will come back tenfold, I promise!
I think every post should have a photo. Even if it's just 1… it really brings the post to life. I especially like it when the size of the photos are consistent, and this is something I'm working on… the editing process take a bit longer, but it's so worth it in the end! This is totally superficial, though. To each their own!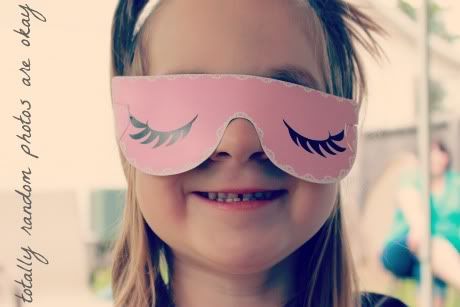 Commenting.
Be sincere! Even a simple "hello!" is more sincere than "hi, come enter my giveaway!"... know what I mean? Sure, I might check out your giveaway (duh!)... BUT, I'm more apt to follow back if you've introduced yourself! Just sayin'
This is also something I'm working on. I do try to introduce myself when I follow a new blog... and I don't hold a grudge if they don't follow back!
Have fun.
If it's not fun anymore, what's the point!?
I hope everyone has a fabulous weekend!
My sister and I are going out for pedicures tomorrow, and then out to supper!
I can't wait!!