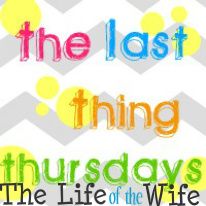 In case you were wondering...
The Last Thing I Ate
a hot-dog for lunch.
(always seems like a good idea, but... yuck!)
The Last Thing I Bought
2 pairs of pants for Ruby at the local thrift shop!
Can't beat buying a pair of pants for $1
The Last Thing I Was Supposed To Do But Forgot
Buy croutons!
Hubby sent me specifically to the store for that, and I came back with 3 bags of groceries... no croutons
The Last Thing I Watched On TV
Last night's episode of American Idol.
LOVED the Queen songs they covered!
The Last Thing I Heard On The Radio
Jive Talkin' by The BeeGees ♥
The Last Thing I Did For Someone
Booked a pedicure for my sister!
She'll be nearly 33 weeks pregnant by then, and definitely deserves one!
(I'm totes getting one too!!)
Her basketball belly, taken a few weeks ago! My little niece is in there! :)

The Last Thing I Complained About
Probably laundry... it's never ending! The hubs is good at doing it, but I get stuck putting it all away!

I think this is a super fun linkup...