Really happy to have
Digger
here today.
I'm a big fan of her blog, and was totally excited when she said yes to a guest post!
The only prompt I gave was "What do you think love is?"
I just knew she'd have something awesome to say about that!
************************
In a nutshell, I have decided that I am going to make my living by writing, designing, and photographing, so I'm going to. For those of you who have not been reading my little blog, here's the rundown - I love hiking, camping, biking, reading, designing, sewing, traveling, rainy nights and sunny days. I'm a huge fan of the mountains and an even bigger fan of the beaches. I have spent the last 8 years learning what it's like to grow and change alongside my polar opposite. We're night and day different, but find a pure and solid happiness in each other and ourselves while we sort out this complicated, messy process called marriage. We have 2 very energetic and entertaining little boys, the Super Awesome, Bruiser, and the King Of Mayhem, Monster. The goal now is to achieve balance in life: to be opinionated yet nice, to have pretty things and still save for a rainy day, to be a good mom, but still find the "ME" in Mommy.
♥
My life is kinda stressful. Not in the crazy trying to diagnose cancer, catch a criminal mastermind/drug ring in some big city, or tame wild elephants and lions for a circus. But still, for me, I get completely overwhelmed by things of my own doing, or my kids doing. And then there are days when EVERYTHING seems to bother me: traffic, tantrums, pee on the carpet (and no, this isn't an issue with our dog, Zoey - Monster (my son) has learned how to undress himself… woo-hoo), dishes, laundry, errands, bills, etc, etc, etc…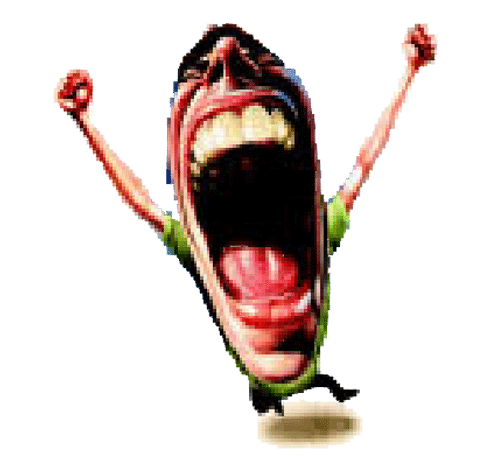 I have a million memories of telling Hubs that I'd much rather go to work and do his job, and he could stay home because it was WAY more stressful than anything he ever had to deal with. His response is always that he'd much rather stay home and sleep and eat bon-bons all day because I couldn't handle this day-to-day stresses.
It's like a contest between us. Who's "job" sucks more.
Hang on, I swear there's a point here
A few days ago, I called Hubs during the day and as usual just asked how his day was going. Come to find out, his boss, (whom I think has a serious case of bi-polar disorder) had about 15 minutes earlier come in and began yelling at him. Knowing Boss, I can just imagine the scene - raised voices, angry words - the whole nine yards. He was unhappy with the way that a situation was handled, and the thirty seconds I heard of the conversation rattled me. So, Hubs, always trying to be the Uber employee and hard-worker that he is, promised to call me back once he'd figured out how to resolve the incident (which by the way had nothing at all to do with him), and when I ended the call, I pondered what I'd heard.
Maybe his repeated insistence that his job was stressful had some validity. I have a lot of stress to, but, mostly, I don't get screamed at (and when I do I can enforce time-out). That's gotta suck - and I know that type of thing happens more than just this once. He works in a stressful field with a crazy boss.
After I hung up the phone and had my little epiphany, I decided that when he got home I'd do something special just for him. However, my day had other plans… Monster missed his nap, and was a grumpy-butt to prove it. Bruiser threw a huge tantrum because I wouldn't let him go outside and play in the rain. There was laundry piled up on the dryer begging to be folded. Dinner needed to be started. I had an article due in less than 3 hours that I hadn't even started, a birth announcement that was about 2 weeks past due, and on and on. When Hubs walked in the door, I handed a screaming Monster to him and ran to the store because I'd forgotten to pick up diapers while I was out earlier that day. I had planned to make a nice dinner and create a relaxing environment when he got home that night. He deserved it! And instead I left him with a pile of clothes on the sofa, two screaming kids, and nothing to eat. Wow, I was going great!
I hurried through the store, picking up the diapers and a few other things I'd forgotten. And when I walked back through the door -- the smell of his perfect spaghetti greeted my nose (and grumbling tummy). He had Bruiser folding clothes and the kitchen was almost spotless. While I was putting the groceries away, he set the table and then we all sat down and had a really nice family dinner.
After we put the boys to bed that night and I'd finished my article for the next day. We were laying in bed talking and I asked him why he did it. After his crazy day at work, why he came home and put forth so much energy to help me. His response was that after staying home alone with the boys a few nights that week, he'd put some real thought into what I go through on a daily basis and realized that I do a ton to keep the family moving and functioning every day. He wanted to make it easier on me, because I deserved it!
That's when it hit me. We both deserve it. We both work hard and we both have stressful days. It's easy to think that my life is harder than his, or his life is harder than mine. But we both do so much to keep this family together. That's what love is. It's realizing that you're both working hard to achieve the same goals. It's putting yourself last and your spouse first. It's always wanting to make the other person's life easier and better. Love is what happens when you're busy living. Love is what happens when there's laundry on the couch and diapers to buy. Love is being there for each other. Always.
************************
Awwwwwww....
told you she was sweet!
If you're not a follower yet, here's where you can find her