3 Awesome Things
are happening on my blog right now...
you can win 4 gorgeous headbands... and a girl cannot have too many of those, am I right?
I have always thought of myself as more of an 'art lover' rather than an 'artist' but I am getting artsy and co-hosting this unique swap with Amber over at
Sneakers Over Stilletos
It'll be fun! We'd love to get at least a dozen bloggers in on the fun!
Sign up and spred the word!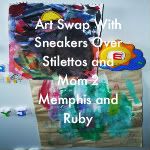 and link up your Bloglovin' accounts!
Great way to keep track of your favorite blogs, especially with GFC on it's way out!
Whatcha' waiting for? Get in on the fun!