Welcome to my first linky party!
The idea for this came to me because my kids are into coloring BIGTIME lately...
and what happens is our fridge becomes cluttered with drawings, pictures and crafts of all sorts...
and I love it!
I have to be honest, before I had kids I really disliked the look of a cluttered fridge...
now I can't stand the look of a bare one!
It makes me smile just thinking about how proud my kids are when they put up their new creations
If your fridge looks anything like mine, link up and show off what your little artists have created!
If you don't have kids, but your fridge is cluttered with love notes (awwww!), recipes or a funky magnet collection... feel free to join in on the fun!
Grab a button at the bottom of the post and spread the word!
Today I'm featuring a drawing by Memphis...
he drew this at the after school program!
We have titled it "Crabs"
I think he did a great job! I was surprise at his "subject"... not sure why he decided to draw crabs, but he was very proud! Love it!
Can't wait to see what you guys have on your fridges! ;)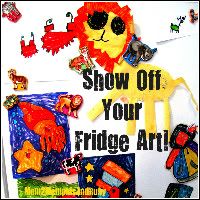 *************************************************************