As I'm sitting here eating my breakfast before my littles wake up... I
realize
there are some things I will compromise on, and others that I absolutely WILL NOT.
For example, my breakfast this morning is toast with cheap 'no name' peanut butter...
I'll eat the cheap peanut butter and buy the cheapest mustard... but I will not buy generic or 'no name' brand ketchup. It has to be the good stuff.
Also, as a mother... I will never, ever again buy the cheap paper towels OR toilet paper.
Obviously, I try to get stuff when it's on a sale and stock up on these "necessities" when I can, but if it's an emergency and we've run out, and the good stuff isn't on sale... I'll get it anyway!
I'll try to save money when it comes to cat food (sorry, Otis!)... but I'm much more particular as to which brand of kitty litter I'll use!
I prefer to get the good stuff when it comes to laundry soap, but I'll don't mind skimping on shampoo.
I also try to buy a lot of second hand clothing for the kids... why not get them some cute stuff at ridiculously affordable prices, right? BUT I will always buy them new winter boots... and will spend a small fortune on a good pair. I don't want their little feet to cold, now do I?
What are some of the things you're willing to compromise on.
Are you picky... or will you buy just about anything for the right price?
Consider this my thought for today... ;)
...also, have you linked up yet for the blog hop?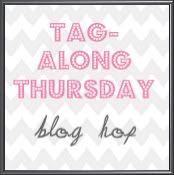 {and don't forget about my
current giveaway
- lots of ways to enter!}