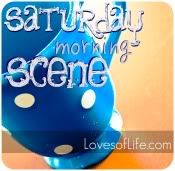 Linking up with
Loves of Life
for my first "Saturday Morning Scene"
Times are tough... we're on a very tight budget right now. Just bought a new (to us) van, and are heading out of town next week to bring the kids to the Toronto Zoo. Being broke means I need to find creative and cheap ways to keep the kids entertained.
Lucky for me, a local store's chain was celebrating it's 50th anniversary, so there were some in-store deals (no shopping for me, though!), a BBQ (hot-dog & drink for $1) and face painting (nothing fancy!) & balloons for the kids. It really doesn't take much to get my kids excited, so off we went! After that, we went to the park and then out for ice cream, and I was surprised to see there was a flavor called Tiger Tiger (never heard of this before, but it's orange ice cream with a black licorice swirl... YUM!). Ironic & delicious!