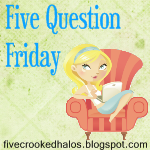 1. Do you apologize to your kids?
Yes. They're little people and if I've wronged them or done something that upset them, I will apologize.
2. What color are your nails right now?
I just did my nails the other night... Salley Hansen's Fruitti Petutie! Funky pinky color, love it! :)
Unfortunately just found out it's
discontinued
... :(
3. When you were growing up, how difficult was it for you to stay home from school sick? (As in, did you have to vomit or just say "I don't feel good".)
To be honest, I never enjoyed missing school. I was a bit of a nerd. I stayed home when I was obviously sick, and if I did 'fake it'... I would have just had to say I wasn't feeling well. Since I didn't make a habit out of it, my mother would trust that I was really not feeling well... ;)
4. When is the last time you bought a new comforter for your bed?
We got a new bed in November... and I found a cute 'bed-in-a-bag' deal for 50% off! Plus, it totally matched the wall color & curtains we already had in our room. Perfection!
5. Favorite website(s)?
Sites I visit absolutely EVERYDAY: Facebook, People.com, Etsy, Ebay, blogs I follow...